Hey you!
How are you?
What's your name?
What are you doing?
How do you, as a woman, come into direct and spontanous contact with strangers in public? And how do you win them over for an individual fulfillment of needs? In the performance harem, katze und krieg play with flirting and leadership strategies to find new members for their harem. They stare at, whistle at, chat at and use a landing net and fishing rod to get in contact with passers-by. If someone stops, they negotiate what the other can contribute to become part of the harem. As soon as a sample of the ability was accomplished, the person is taken up in a ritual action into the harem of katze und krieg. With the official admission, the person commits to fulfilling the agreed-upon need at a future meeting. The performance interrogates expectations of gender role behaviors. The audience is invited to observe the artists through audio radio as they intervene in the urban space.
Performances
On July 18/19/20, 2019, the performance took place as part of the Asphalt Festival in Düsseldorf.
On July 25/26/27, 2019, the performance took place in Cologne as part of the Temporary Gallery performance program.
Photos
Hillemacher
Press
"Harem. Das Performance-Duo katze und krieg überprüft, was Frauen dürfen" Manuscript of WDR3Mosaik- radio report by Dorothea Markus, july 2019
Support
harem was created in cooperation with Temporary Gallery in Cologne and in co-production with asphalt festival Düsseldorf. Supported by the Kulturamt der Stadt Köln, the NRW KULTURSekretariat and the Ministerium für Kultur und Wissenschaft des Landes NRW, as well as the NRW Landesbüro Freie Darstellende Künste in the context of the project KUNSTSTÖRER.
                     
Documentations of the actions of the harem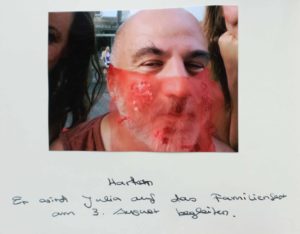 Harkan accompanies Julia to her family party in Frankfurt am Main on Aug. 3, 2019.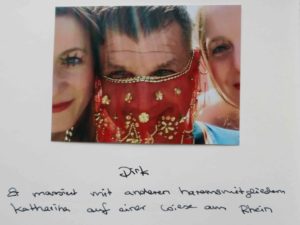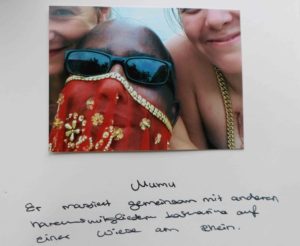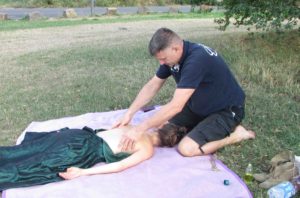 Dirk massages katharinajej on 10.8.2019 on the Rhine in Cologne. Mumu does not dare but watches and takes pictures.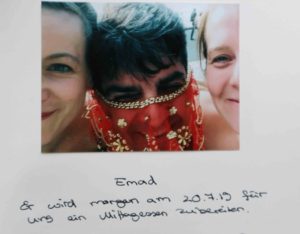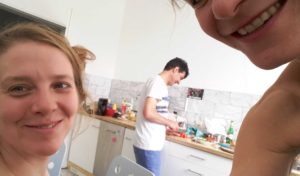 Emad cooks vegetables with rice for katze und krieg in Düsseldorf on 20.7.2019.